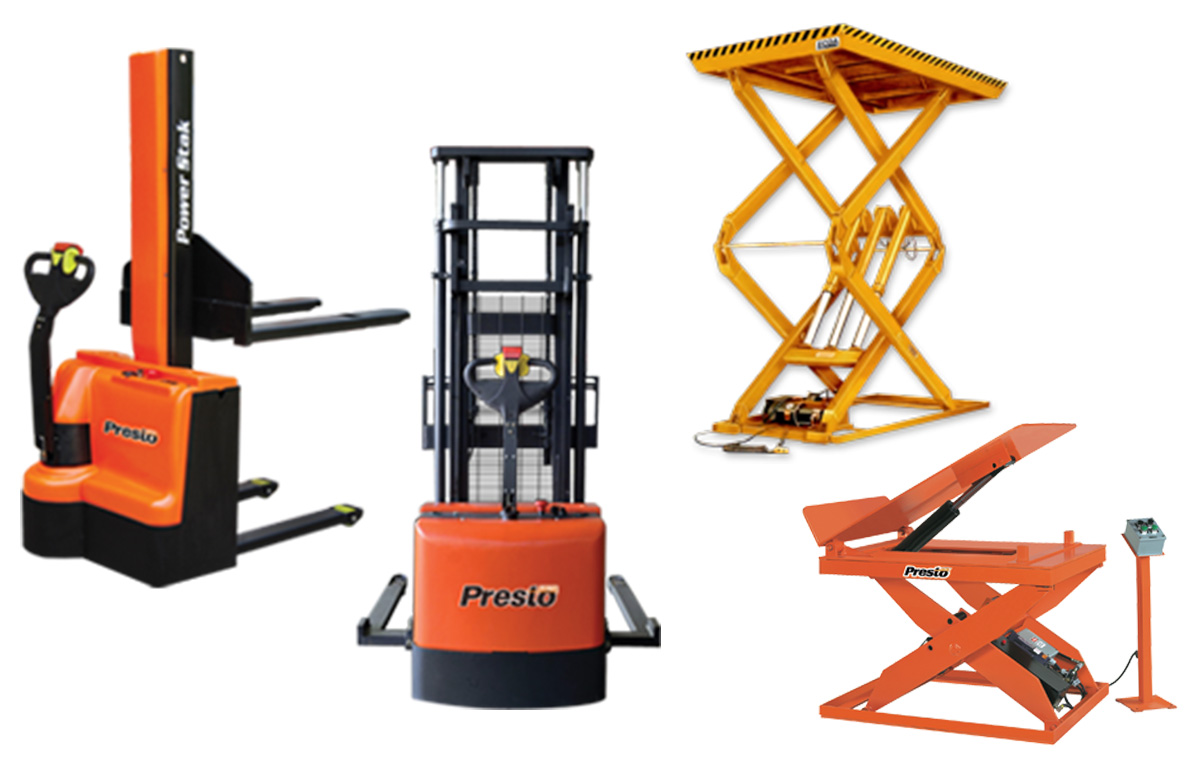 Material Handling Equipment
Material Handling Equipment
Super Build Canada Inc. has Material Handling Equipment for any size warehouse to fit your budget and solve the most demanding warehouse storage challenges.  Along with the products below, Super Build supplies Pallet Jacks, Conveyors, Industrial Handling Supplies, Industrial scales and Lifts, Chain Hoists, Drum Lifters, Electronic Workbenches, Flammable storage cabinets and more...
Power Stackers
The Presto PowerStak™ is a high-performance, fully-powered stacker providing instant flexibility and versatility. It's sleek, stylish design, low overall weight, and quiet operation allow the PowerStak to fit nicely into a wide variety of work environments.
Foot-Operated Stackers
Designed to easily handle all types of lifting tasks from transporting dies and molds to stacking skids and pallets. The simple to operate foot pedal provides effortless lifting. Compact enough to fit through standard doorways and operate in confined/congested spaces. Can be equipped with forks or solid platforms.
Pallet Positioners
ht as layers of boxes are added or removed. Choose from pneumatic airbag or mechanical spring configurations. P3 All-Around Pneumatic Airbag - Heavy-duty, reinforced rubber airbag handles loads up to 4500 lbs. The pneumatic option accommodates loads that vary substantially in weight - from 400 - 4500 lbs. P3 All-Around Spring - Heavy-duty springs and shock absorbers lower or raise pallets as boxes are added or removed. Multiple spring configurations are available to accommodate loads from 400 - 4,500 lbs. Best used where load weights don't vary greatly Both units feature a turntable top with easy turning anti-friction bearings allow users to spin loads so they are always working from the near side without having to walk around the unit.
Pallet Trucks
Powered Pallet Trucks PowerJak™ Electric Pallet Trucks feature powered lift and powered drive for effortless transport of pallet loads. They are more convenient and easier to use than hand pallet trucks and far more economical than ride on devices.
Scissor Lifts
Standard-Duty Scissor Lifts Maximize worker and machine productivity by positioning work at just the right level. Eliminate manual lifting, bending and reaching associated with a wide variety of tasks.
Tandem Scissor Lifts Tandem lift tables are perfect for handling long loads such as pipes, sheets, bar stock, lumber and large assemblies. Platforms with sizes up to 4' x 17' provide smooth, level lifting and lowering of loads up to 12,000 lbs.
Light-Duty Manual Scissor Lifts Designed and built for light-duty lifting and positioning tasks, these foot pump operated hydraulic scissor lifts offer a dependable, low-cost solution for intermittent duty cycles. Capacities up to 2,000 lbs. platforms up to 48" x 72" are available.
Portable Manual & Electric Scissor Lifts These compact and extremely maneuverable scissor lifts improve efficiency and worker safety. Ideal for use as portable workstations, machine feeding tables and load transporters. A simple to use foot pump raises loads weighing up to 1,500 lbs. to heights up to 45-1/4".
Floor Level Lifts
These units can all be fed quickly and easily by inexpensive hand pallet trucks allowing workers to function at their own pace without having to wait for a fork lift and certified operator to load the lifts for them. With capacities up to 6,000 lbs. and multiple platform (pan) sizes, virtually any load can be accommodated
Floor Level Lift & Tilt
These hydraulic scissor lift tables in 2,000 or 4,000 lb. capacities lower flat to the floor allowing them to be loaded and unloaded with a hand pallet truck. The combination lift and tilt feature allows loads to be positioned at the most comfortable height and angle.