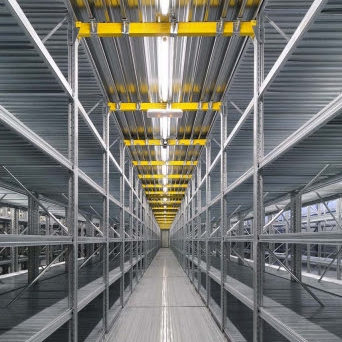 Shelving
Industrial Shelving available in both bolted and boltless styles designed to store items of various sizes, shapes and weights. Warehouse, Commercial and Retail are just some of the applications were shelving is used.
A wide variety of finishes are available such as Zinc Coated, Painted, Stainless Steel to suit your product specifications and environment Light Duty shelving is designed to store light and medium items and is easy to adjust and move if needed.
Long Span Shelving is designed to store heavier and larger items, large boxes, large parts and tires are just a few of the Mobile Shelving is the style of chose were maximum storage is required in a small area it is commonly used for storing archive records. 
A wide variety of Accessories are available to customize any type of shelving to maximize its use. Plastic Shelves, Dividers and Lockable Drawers to name a few. 2-Tier Shelving is a great option when the area height (15' and higher) makes it possible maximize storage capacities